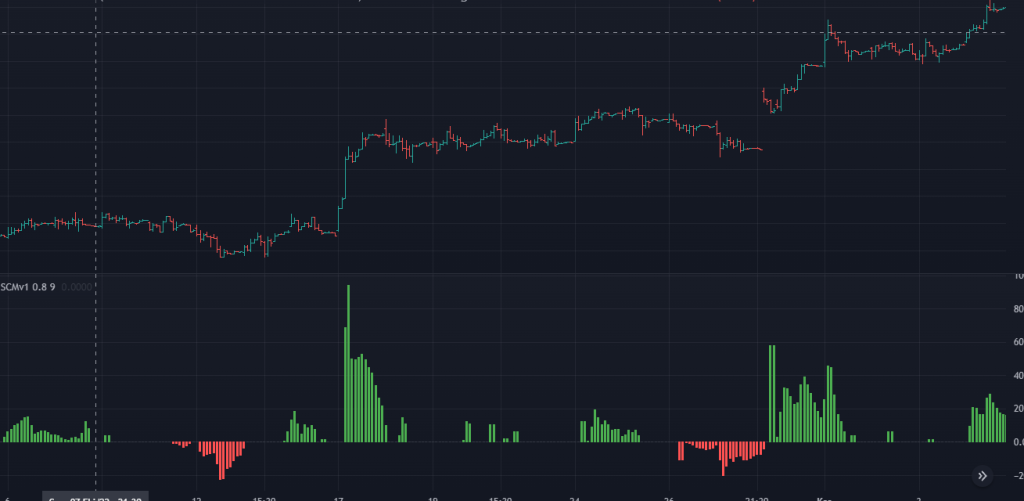 Hello dear traders. With this indicator, you will have an idea about more than one subject.
First of all, I would like you to know that this indicator is linked to ATR, moving average and overbought and oversold indicators.
Tradingview link ; https://tr.tradingview.com/script/whujVkEw/
What does it do ?
This indicator is actually a confirmation mechanism. It's easy to integrate into your strategy. If the color of your indicator is green, it may suggest that prices may rise, and if it is red, it may fall. The fact that it is black indicates that it has an unstable structure. That's why I avoid trading in black areas.
Color change moments are important. Because if the color changes, we can say that the direction of the price also changes.
It's that easy.
You can strengthen your signals by looking at the color of this indicator while integrating it into your strategy.
It works in all time periods. It paints the columns black to get rid of the horizontal market. No volume data was used. It is obtained by comparing the moving average with a certain percentage of data that lags behind it.
Merhaba sevgili traderlar. Bu indikatör ile birden fazla konu hakkında fikir sahibi olacaksınız.
Her şeyden önce, bu göstergenin ATR, hareketli ortalama ve aşırı alım ve aşırı satım indikatörleri ile bağlantılı olduğunu bilmenizi isterim.
Bu ne işe yarıyor ?
Bu gösterge aslında bir doğrulama mekanizmasıdır. Stratejinize entegre etmek kolaydır. Göstergenizin rengi yeşil ise fiyatların yükselebileceğini, kırmızı ise düşebileceğini gösterebilir. Siyah olması kararsız bir yapıya sahip olduğunu gösterir. Bu yüzden siyah alanlarda al-sat yapmaktan kaçınıyorum.
Renk değiştirme anları önemlidir. Çünkü renk değişirse fiyatın yönü de değişir diyebiliriz.
Bu kadar kolay.
Stratejinize entegre ederken bu göstergenin rengine bakarak sinyallerinizi güçlendirebilirsiniz.
Tüm zaman dilimlerinde çalışır. Yatay piyasadan kurtulmak için sütunları siyaha boyar. Hacim verisi kullanılmamıştır. Hareketli ortalamanın, gerisinden takip eden belirli bir veri yüzdesi ile karşılaştırılmasıyla elde edilir.